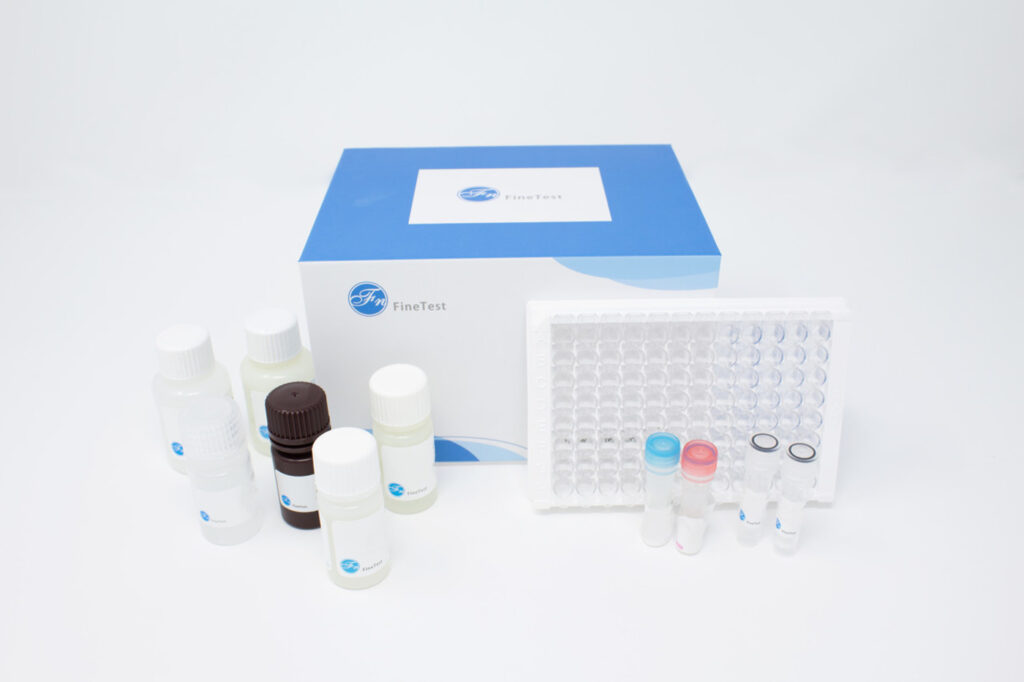 Bovine Ig(Total Immunoglobulin) ELISA Kit is a commercially available enzyme-linked immunosorbent assay (ELISA) kit used to measure the total immunoglobulin (Ig) concentration in bovine serum or plasma samples.
The kit typically includes pre-coated microtiter plate(s) with bovine Ig-specific antibodies, a standard curve, and a set of reagents necessary for the assay. The assay is based on the principle of sandwich immunoassay, where the sample is added to the microtiter plate and binds to the bovine Ig-specific antibodies on the plate. Then, a biotinylated antibody specific to bovine Ig is added, which binds to the captured Ig molecules. After a series of washing steps, a streptavidin-conjugated enzyme is added, which reacts with a substrate to produce a colorimetric signal that is proportional to the amount of Ig in the sample.
The absorbance of the signal is measured using a microplate reader, and the Ig concentration in the sample is determined by comparing the signal to the standard curve.
The Bovine Ig(Total Immunoglobulin) ELISA Kit is commonly used in veterinary research and diagnostic laboratories to detect and quantify the levels of total Ig in bovine serum or plasma samples. The kit provides a reliable and accurate method for measuring total Ig levels, which is important for monitoring immune function in cattle and for diagnosing various diseases, such as infections and autoimmune disorders.
Bovine Ig(Total Immunoglobulin) ELISA Kit
Catalogue No. EB0001
Detection Method : HRP Competitive ELISA, Coated with Antibody
Application : Ig ELISA Kit allows for the in vitro quantitative determination of Serum Albumin concentrations in serum, plasma, tissue homogenates and other biological fluids.

Size : 96T
Range : 31.25-2000ng/ml
Sensitivity : < 18.75ng/ml
Species : Bovine
Storage : 2-8 ℃ for 6 months

Recovery : Matrices listed below were spiked with certain level of Serum Albumin and the recovery rates were calculated by comparing the measured value to the expected amount of Serum Albumin in samples.

Linearity : The linearity of the kit was assayed by testing samples spiked with appropriate concentration of Serum Albumin and their serial dilutions. The results were demonstrated by the percentage of calculated concentration to the expected.
CV(%) : Intra-Assay: CV<8%, Inter-Assay: CV<10%

This kit was based on Competitive-ELISA detection method. The microtiter plate provided in this kit has been pre-coated with antibody. During the reaction, target in the sample or standard competes with a fixed amount of HRP-Antigen. Excess conjugate and unbound sample or standard are washed from the plate. Then TMB substrate solution is added to each well.

The enzyme-substrate reaction is terminated by the addition of a sulfuric acid solution and the color change is measured spectrophotometrically at a wavelength of 450nm. The concentration of target in the samples is then determined by comparing the OD of the samples to the standard curve.
Note : For Research Use Only