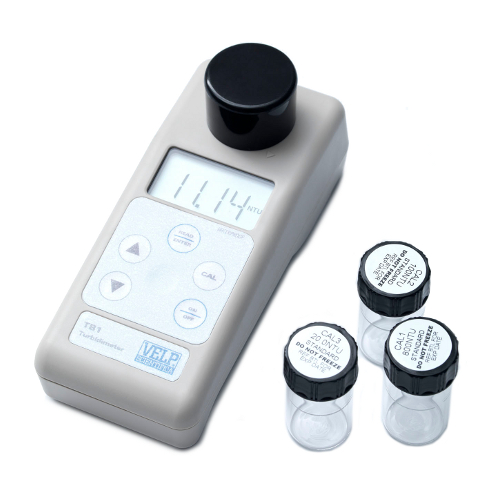 Portable Turbidimeter Velp TB1 adalah alat ukur yang digunakan untuk mengukur tingkat kekeruhan (turbidity) pada suatu cairan. Alat ini memiliki bentuk yang portabel sehingga mudah dibawa ke lokasi pengukuran.
Velp TB1 dilengkapi dengan layar LCD yang menampilkan hasil pengukuran secara digital dengan rentang pengukuran dari 0,00 hingga 1000 NTU (Nephelometric Turbidity Units). Alat ini menggunakan prinsip pengukuran nefelometrik, di mana cahaya diarahkan ke dalam sampel dan kemudian diukur seberapa banyak cahaya yang tersebar oleh partikel-partikel yang ada di dalam sampel.
Selain itu, Velp TB1 juga memiliki kemampuan untuk menyimpan data hasil pengukuran yang dapat diakses kembali melalui koneksi USB ke komputer. Alat ini memiliki daya tahan baterai yang cukup lama dan dapat diisi ulang.
Secara keseluruhan, Portable Turbidimeter Velp TB1 merupakan alat ukur yang akurat dan mudah digunakan untuk mengukur tingkat kekeruhan pada berbagai jenis cairan di berbagai lokasi.
Features and Benefits
The measure of turbidity is based on International Analytical Method ISO 7027 that allows high reproducibility of the measured values. With few buttons, you can achieve a simple and rapid calibration. In a few seconds, the instrument provides the information requested about the standard and the sample to be analyzed.

The measurement range is from 0 to 1000 NTU with an accuracy of reading ±2% from 0 to 500 NTU and ±3% from 501 to 1000 NTU. TB1 is self contained unit which operates independently (1200 tests), using a set of 4 batteries.

Among the main characteristics:
– Friendly use – LCD display allows an easy value reading of the measure unit and provides useful error messages
– Supply – Turbidimeter is supplied with 4 primary standards and 3 empty vials to allow you to compare different sample readings
– Safety – High electric protection degree IP 67
Features Descripiton :
Measurement method : ISO 7027 nephelometric method (90°)
Measurement range : 0-1000 NTU
Accuracy :
±2% in the range 0-500 NTU
± 3% in the range 501 – 1000 NTU
Calibration standards : 0.02, 20, 100, 800 NTU
Reproducibility : ± 0.01 NTU or ± 1% of the readings, better on gel samples
Light source : IR emitting diodes (wavelenght 850 nm)
Protection degree CEI EN 60529 : IP 67
Weight : 0,2 Kg (0.4 lb)
Dimension (W x H x D) 68 x 50 x 155 mm (2.7 x 2 x 6.1 in)