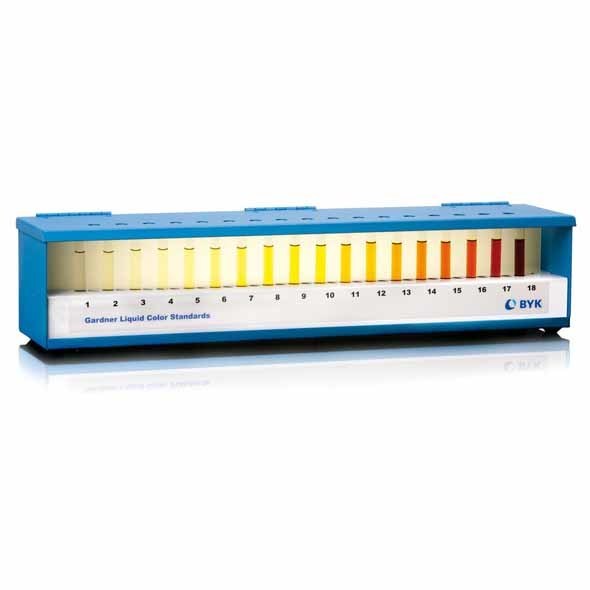 BYK Gardner Liquid Color Standards are a range of color standards used for visual color matching in the paint, coatings, and plastics industries. These standards are liquid colorants that are designed to accurately reproduce a specific color in a consistent and repeatable manner.
The BYK Gardner Liquid Color Standards are available in a variety of colors and shades, including opaque and transparent options. They are typically used to check the color of a sample or to create a color match for a new product.
The liquid color standards are easy to use and can be added to a sample using a pipette or syringe. Once added, the sample can be compared to the standard under controlled lighting conditions to ensure an accurate color match.
BYK Gardner Liquid Color Standards are known for their accuracy and consistency, making them a valuable tool for quality control and color matching in various industries.
The Gardner Liquid Color Standard Comparator provides the entire Gardner Color Scale, against which a liquid sample can be visually compared.
Rugged design for use in the laboratory and production
Quick and easy color quality control of liquids
Attractive price – color evaluation of liquids becomes affordable to everybody
Shelf-life is 5 years
The sealed tubes are filled with Cobalt Chloride Platinate solutions of varying concentrations, which correspond to known Gardner Scale yellowness value numbers 1 – 18.
The solutions are standardized at 25 °C (77 °F), but visual evaluations made between 20 °C (68 °F) and 30 °C (86 °F) are substantially correct.
Two models are available: with or without illumination.
Standards
AOCS Method Tdla-64T
ASTM D 1544
ISO 4630
Cat. No. CL-6726 and CL-6727 come complete with:
Set of 18 color standards 1 to 18
6 empty comparison tubes
Steel holding rack with fluorescent lamp
Operating manual
Cat. No. CL-6724 Comes complete with:
Set of 18 color standards 1 to 18
6 empty comparison tubes
Steel holding rack with frosted glass panel
Operating manual